Are you bored with the traditional built-in screen saver of Win eXPerience ? Do you want to have a stylish looking Vista (Microsoft included it in Win Seven) screen saver on your XP monitor? Now you can use the Vista screen saver to bring life to your XP desktop.
The bubbles screen saver is my favorite...because the image that you have on your monitor (when the screen saver starts) remains there. The bubbles appear and move around on the screen....the following image is from my desktop and in this image the bubbles are stationary...not moving like they will in the actual screen saver.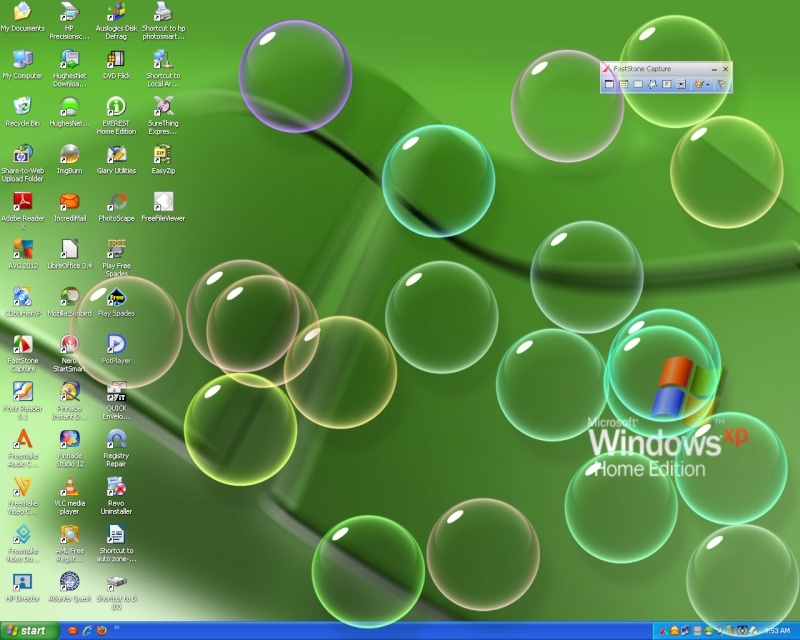 The most popular Vista screen savers are Bubbles, Aurora, Mystify and Ribbons.
In order to install these screen savers in Win eXPerience, you will have to download the patched screen savers from the link at the bottom of the post:
Once you download the files, unzip them to an unzipped folder and in that unzipped folder...you will find the individual screen saver and a text file.  From the unzipped screen saver folder .....  copy an individual screen saver and then paste it to the C:\Windows\System32 folder in your computer. If you want all four screen savers than copy and paste each one separately.
To activate the screen saver, right click on a blank area your desktop and click on properties. Now go to screen saver tab and the newly added savers are there in the list. Select the one you want to activate and click on Apply OK.
That's it …. After the set inactivity time...your new Bubble screen saver pops up and you can say thanks to the guy who showed you the trick or call him a name of your choice.... I am sure I have been called worst!!  

Vista Screensaver Ported to XP (Patched) Build 5308
Package content:
· Aurora screensaver
· Bubbles screensaver
· Mystify screensaver
· Ribbons screensaver
http://www.softpedia.com/get/Desktop-Enhancements/Screensavers/Vista-Screensaver-Ported-to-XP.shtml
NOTE:
need help just leave a message (reply) here on this forum. If you do not want to be come a member of the Symposium.... then leave a message in the forum.....Suggestions, Comments or Questions :: Provide feedback or ask a questions …......  http://easttnforum.forumotion.com/post?f=13&mode=newtopic