Have you read articles below...they are one of many reasons..I have a problem with the Lame Stream Media...now-a-days. They could have found out what it was in a matter of minutes ( see bottom of post)....but that would have been a Non-story!
Mysterious metal ball falls from space...
http://www.drudgereport.com/default.htm?sc=0.12739250353265818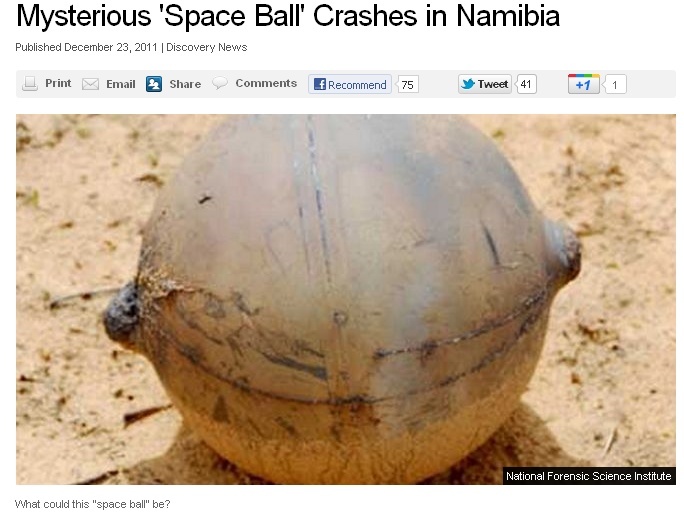 http://www.foxnews.com/scitech/2011/12/23/mysterious-space-ball-crashes-in-namibia/?test=faces
"Space ball" drops on Namibia
A large metallic ball fell out of the sky on a remote grassland in Namibia, prompting baffled authorities to contact NASA and the European space agency.
http://news.yahoo.com/space-ball-drops-namibia-133326985.htm
http://www.telegraph.co.uk/science/space/8972985/Mystery-space-ball-drops-on-Namibia.html
It is a man-made meteorite.
This is a helium tank from the Russian Salyut 7-Cosmos 1686 (Kosmos 1686) spacecraft assembly, which went out of control and fell to Earth as a fireball, 3 to 4 years earlier than expected. Controllers put the spacecraft into a spin and tried to control the impact into the Atlantic Ocean as 70Kg of fuel still remained onboard. This attempt failed and after a bright fireball that was witnessed by many local people, some fragments fell near the town of Capitan Bermudez, 400 Km from Buenos Aires, Argentina at 01:00 local time on 7th February 1991.
Read entire article....@....
http://www.bimsociety.org/gallery/Salyut%207%20-%20Kosmos%201686%20Helium%20Tank/dirindex.html