This symposium has no built in spell checker. So, may I recommend three solutions and I recommend that you use one or better yet, use all if they apply! I have all three on my computer. These images are from my computer and I am using OpenOffice.org Writer to compile this tutorial to post then I will copy and paste it.
#1....OpenOffice.org Writer
* SEE NOTE BELOW
The main reason, I like using open OpenOffice.org Writer is that my dial up, thinks nothing of dropping it connection in the middle of post and therefore all typed word on the website are lost when a reconnect is established. This is real frustrating, especially if you type as slow as I do and the typed document is long in nature. Just use OpenOffice.org Writer to type your post (or whatever) then copy and paste to where you would like for them to go.
OpenOffice.org Writer is the word processor component of the OpenOffice.org software package. Writer is a word processor similar to Microsoft Word and Corel's WordPerfect, with some of their features.
AutoCorrect
AutoComplete......a word completion mechanism for predictive writing that is not available in Microsoft Word as of September, 2009.
Grammar Checking.....which requires the installation of an extension.
OpenOffice.org 3 is the leading open-source (FREE) office software suite for word processing, spreadsheets, presentations, graphics, databases and more.
http://www.openoffice.org/ …..Click on I want to download OpenOffice.org
* NOTE:
I recommend LibreOffice (basically the same as OpenOffice) instead of OpenOffice because the new owners of OpenOffice no longer update it. I do not recommend (unless you are a computer Wizzzz) using Beta and/or RC versions because they are not always a stable.
Download ...LibreOffice …..@...
http://www.filehippo.com/download_libreoffic
or
http://www.libreoffice.org/
#2....ieSpell for Internet Explorer 6,7,or 8.
ieSpell is a free Internet Explorer browser extension that spell checks text input boxes on a webpage. It should come in particularly handy for users who do a lot of web-based text entry (e.g. web mails, forums, blogs, diaries). Even if your web application already includes spell checking functionality, you might still want to install this utility because it is definitely much faster than a server-side solution. Plus you get to store and use your personal word list across all your applications, instead of maintaining separate ones on each application.
Download ieSpell...@.. http://www.iespell.com/download.php .....
when downloading is complete, run the file to install it.
When the installation has completed, restart your browser (if it is open).
You should find a new menu item called "ieSpell" under the "Tools" menu, as well as a new icon on your toolbar as seen in the image below.
Also, see NOTE....BELOW
Note: The toolbar icon will only appear if you have not customized your toolbar before. If you have previously customized your toolbar, you will have to manually select the icon in the "Customize Toolbar" dialog.
Now, after filling in a form or writing a post, just hit the ieSpell button and it pops up a dialog, similar to the MS Word spell check.
Below is an image showing ieSpell on an older version if IE (I believe it to be IE6 and the ieSpell button is the ABC W/check mark under ABC). If using IE7 or 8, than it will appear in the toolbar as in the above image. The important thing is it shows what will happen when using ieSell when writing a message or post.
Download ….. ieSpell v2.6.4 (build 573) ….@...
http://www.iespell.com/download.php
#3 …...Firefox 3.6(use current version), world's best browser
Firefox (current version), world's best browser, has its own in-built spell check, but this spell check is available only in Text area and text fields (text boxes) will not show spelling mistakes. Many times blogging titles have spelling mistakes because of this.
But a simple trick can activate spell check in text fields as well.
To do this, open the config file of Firefox. Type about:config in address bar.......

Now click on arrow in address bar or press enter....you should see......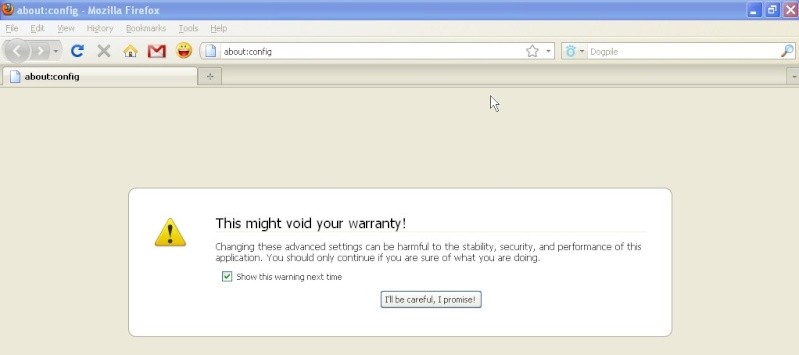 Click on..... "I'll be careful, I promise!"
This should bring up.......

As seen in the above image....... in the "Filter" box, type the following value- layout.spellcheckDefault
Double click (may have to right click) on the line that has "layout.spellcheckDefault" ...this brings up....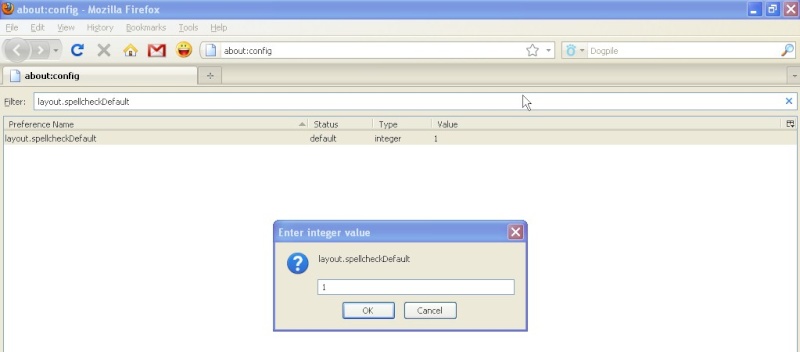 Now in the "Enter integer value" box.......change the 1 to a 2..click "OK"
Close config file and now open any page which has a textbox and check for wrong spelling (no restart required).
Now you put a check mark beside the words "Check Spelling" ...see image below...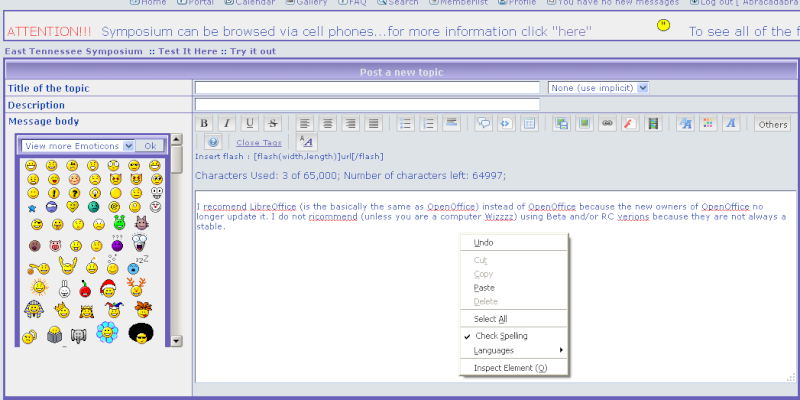 Download......Firefox (current version), world's best browser...@..... http://www.filehippo.com/ or http://www.mozilla.com/en-US/[/quote]