The mainstream media does not cover the full extent of the damage the Obama Administration has inflicted on this country. Even FoxNews often doesn't have the time to go into sufficient depth to explain what is happening.
From Ruth S. King comes a chart which all of us should read and absorb, sobering though it may be: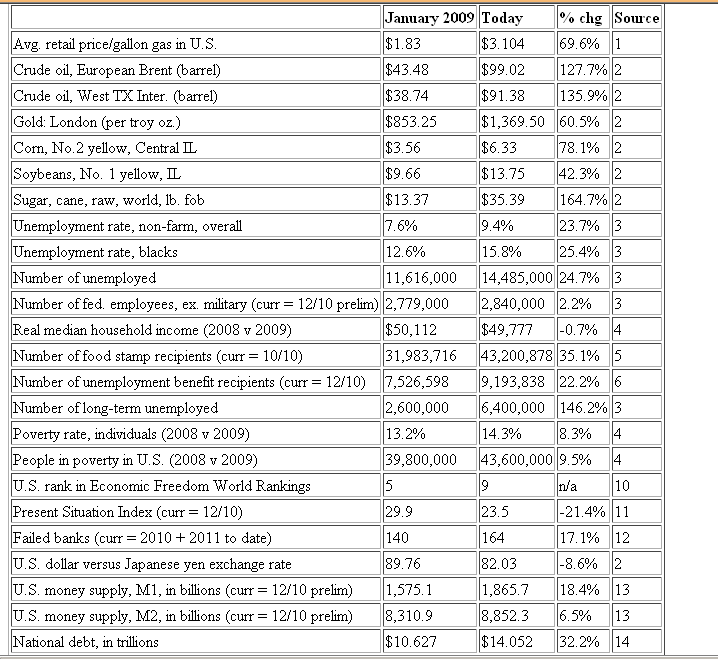 Just take this last item: In the last two years we have accumulated national debt at a rate more than 27 times as fast as during the rest of our entire nation's history. Over 27 times as fast! Metaphorically, speaking, if you are driving in the right lane doing 65 MPH and a car rockets past you in the left lane 27 times faster . . . it would be doing 1,755 MPH!
Obama has wrecked our economy and we must demand that Congress chart a path to reverse the damage and we voters must defeat him in 2012.
(1) U.S. Energy Information Administration; (2) Wall Street Journal; (3) Bureau of Labor Statistics; (4) Census Bureau; (5) USDA; (6) U.S. Dept. of Labor; (7) FHFA; (

Standard & Poor's/Case-Shiller; (9) RealtyTrac; (10) Heritage Foundation and WSJ; (11) The Conference Board; (12) FDIC; (13) Federal Reserve; (14) U.S. Treasury
By Dick Morris And Eileen McGann
02.15.2011
http://www.dickmorris.com/blog/the-damage-obama-has-done/
Hope and change voters....do not forget to
after you enjoy a
 with obama Kool-Aid....sweetened with NutraHope!Many people (that I know) are alive only because it's illegal to shoot them.

Ronald Reagen said it best.......The trouble with our liberal friends is not that they are ignorant, but that they know so much that isn't so.

"You can ignore reality, but not the consequences of ignoring reality." Ayn Rand

The truly educated never graduate !

When the Going Gets Tough, the Tough Get Going. The Smart Left a Long Time Ago.

I have always said I don't care what you do or with whom you do it, but don't demand that I think that it is normal or that it is OK!!!!

Only two things are infinite, the universe and human stupidity!
Defining....Abracadabra …